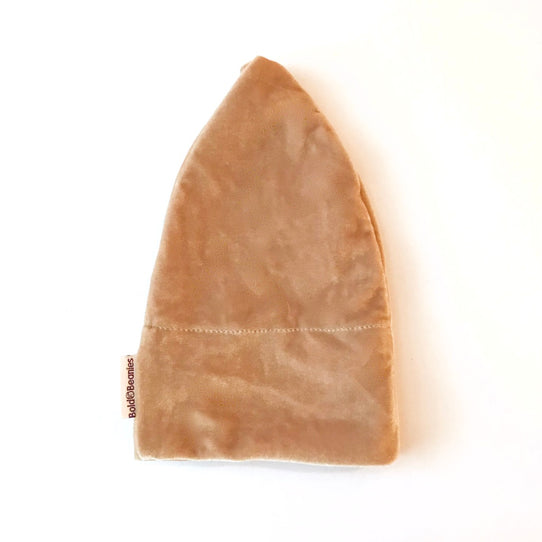 Velvet Luxury Bold Beanies Hat Champagne
Sophisticated Champagne Velvet Bold Beanies Chemo Hat
A cancer alopecia hair loss hat for when you need to feel more dressed up or glamorous.
Super soft and comfortable velvet. Naturally stretchy to fit comfortably and snugly on the head.
This sumptuous range for women in available in many other beautiful colours - Red, Blush, Teal, Slate, Brown, Navy and Aubergine.
Please note: Flower accessory on Blush Velvet Bold Beanie Hat for photographic purposes only and not included (please see flower accessories).
Perfect for a bit more luxury or for a special occasion, the Velvet Bold Beanies are a great addition to the collection. Wear with an adornment, flower accessory for a really glamorous look.
The hats are easy to put on (especially appreciated for the elderly or following breast surgery for example - no lifting of arms and trying to tie scarves in place).
Standard size is very slightly larger than our normal beanie standard size, adjusted to allow for the different material and will fit most. Please choose X Large if you know you have larger than average head or equally X Small for smaller heads, teens or larger children.
Whilst these hats are described as 'Women's' they could equally be worn by anyone. If you would like this Velvet Cancer Beanie Hat made into a rose, please drop us an email.
A lovely gift for anyone going through cancer treatments or suffering from Alopecia. We are happy to send out directly to the recipient and to include a gift note, so please just leave a message at checkout.
Limited Edition. Available while stocks last. Sustainably made in the UK. Designed by Emilienne who personally experienced chemotherapy hair loss. 
---
You may also like