Posted by Emilienne Rebel on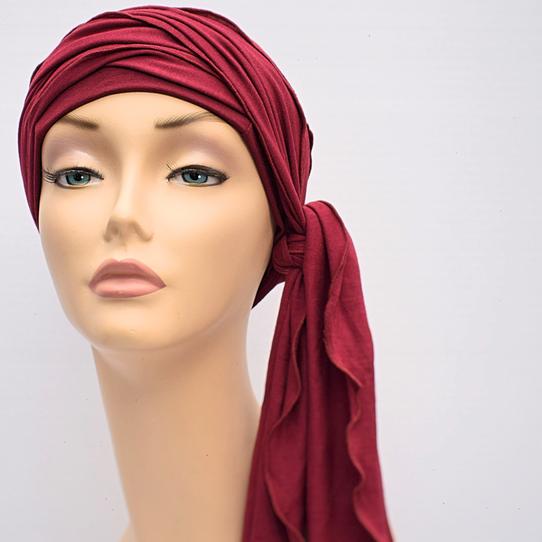 I had a really lovely online enquiry from a customer earlier asking about shipping our bold Beanies cancer hats to the USA. 
She was looking for stylish women's headwear which was also comfortable as she's having chemotherapy treatment for breast cancer. I explained about our snug, coton beanie cancer hats and beautiful quality Liberty printed double sided head scarf made for comfort and ease after surgery. 
Having chemo, she'd lost her hair quickly and felt cold at night, like I did. Her bald scalp was extra sensitive, so she wanted cotton headwear as they are hypoallergenic and breathable. The skull caps for ladies are suitable for daywear and as a temperature controlling cancer sleep hat.
She ordered some soft cancer Beanies (plain colours and Liberty prints) and head scarves to be shipped to America and had a headwear bouquet sent to a friend as a thoughtful cancer gift also having chemotherapy in Ireland. She also ordered a graffiti greetings skull cap to be sent to America for her and her children to write on for her oncologist as he is a runner as thin breathable sweat wicking exercise beanie.
I really love hearing from my customers and good feedback about our pretty cancer headwear. 
Fast international shipping to USA, Canada, Australia and Ireland.
 

FREE SHIPPING

 

on all orders over £65.
Posted by Emilienne Rebel on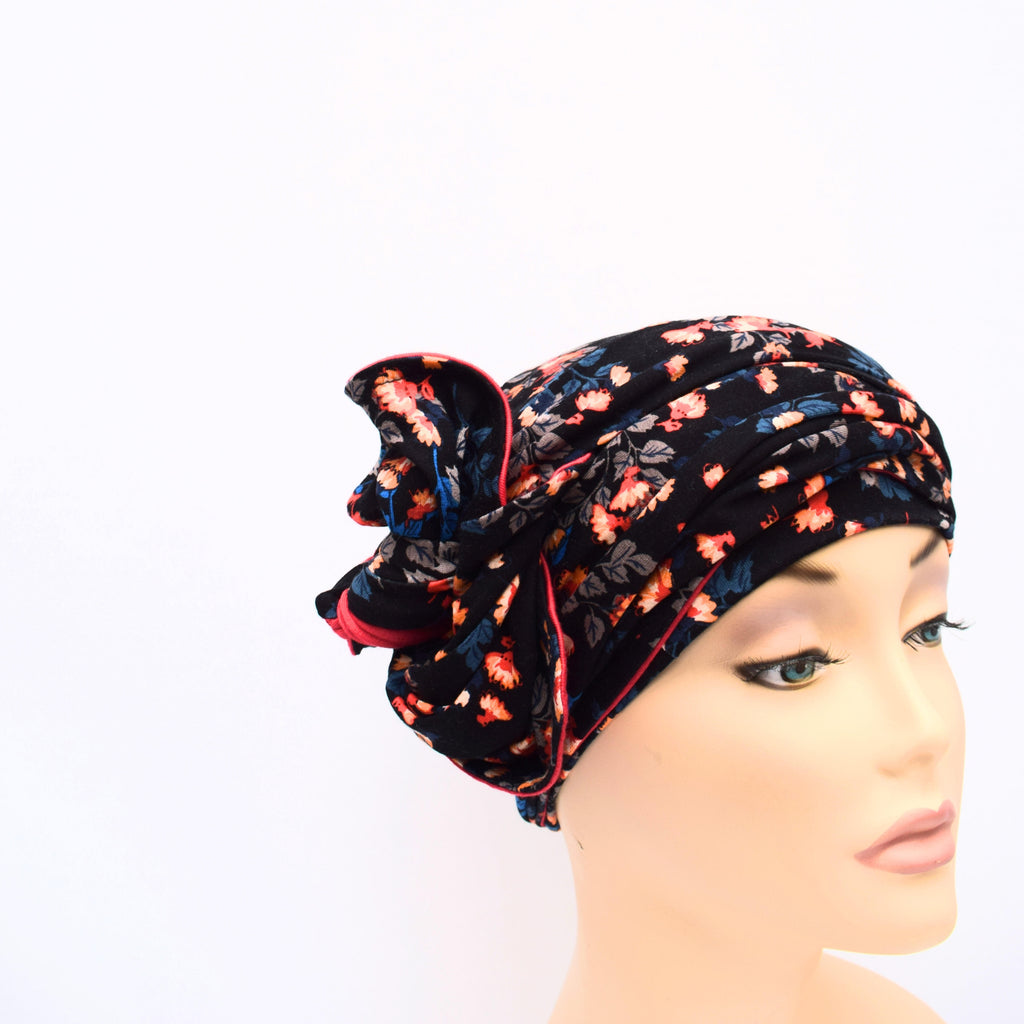 MEET JANE! New to the Bold Beanies Hats collect we have a new product and print, the Jane Double-Sided Head Wrap. 
You can layer the Jane hair wrap over any Bold Beanie cancer cap but we have to say, it looks especially good wrapped around the Jane Bold Beanie. This striking and fashionable small floral and leaf print is a mix of red, petrol blue, blue, taupe, coral and blush on a soft warm black background.
We love this print so much we've decided to offer the reversible side in two colours to compliment the print. Both colours show a little when tied print side up, so you can choose bright red for a pop of colour or a more subtle taupe. As a reversible product you can wear this head wrap in any direction (plain colour at the top!) which gives you lots more wrapping style options, but also very cost effective, affordable hair loss solution. Especially when budget is tight or as a space saver when travelling for example. Many different looks, with just one headwear product!
Made using the very best quality fabric to the highest standards, this Jane reversible head wrap will be the perfect addition to any woman's chemotherapy or alopecia hair loss collection. The stretchy fabric allows you to tie to the side, back or top leaving little or long lengths hanging down depending on how you tie it and your mood... mix it up every day!
Posted by Emilienne Rebel on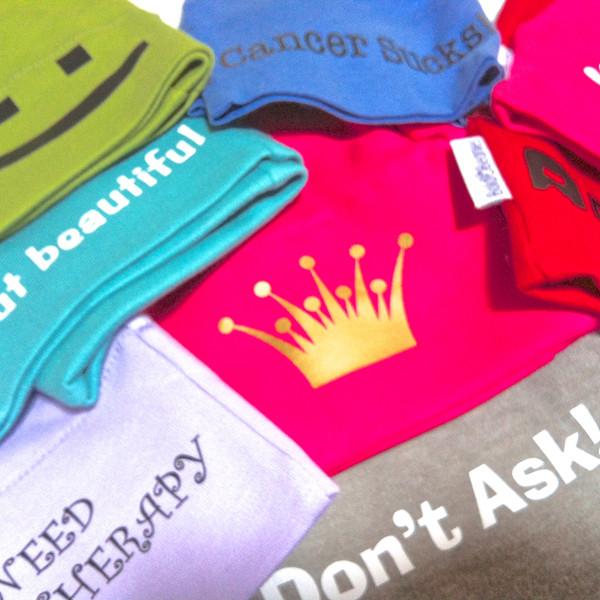 Are you looking for a specific chemo hat, scarf or headwear?  
Can't see the cancer headwear you're looking for?
Emilienne's main objective from her Bold Beanies business is to help people suffering hair loss (her own experience was medical alopecia from chemotherapy treatments aged 31)... to make a things just a bit more bearable... so if you would like to have something bespoke or having something unique in mind (size, print, customisation or colour for example), please drop her an email  - info@boldbeanies.co.uk - and she will always try her best to help. 
Bold Beanies thin stretchy cotton hats, head-wraps and scarves are available for Men, women and kids and come in a wide variety of plain colours and sizes. But sometimes you are searching for something truly unique and maybe we can help. 
Emilienne lost her hair whilst receiving chemotherapy treatment for grade 3 advanced Breast Cancer and couldn't find any simple, comfortable and un-fussy chemo headwear to make her feel confident to get on with her day and breathable and snug so she could get a good nights sleep.