Posted by Emilienne Rebel on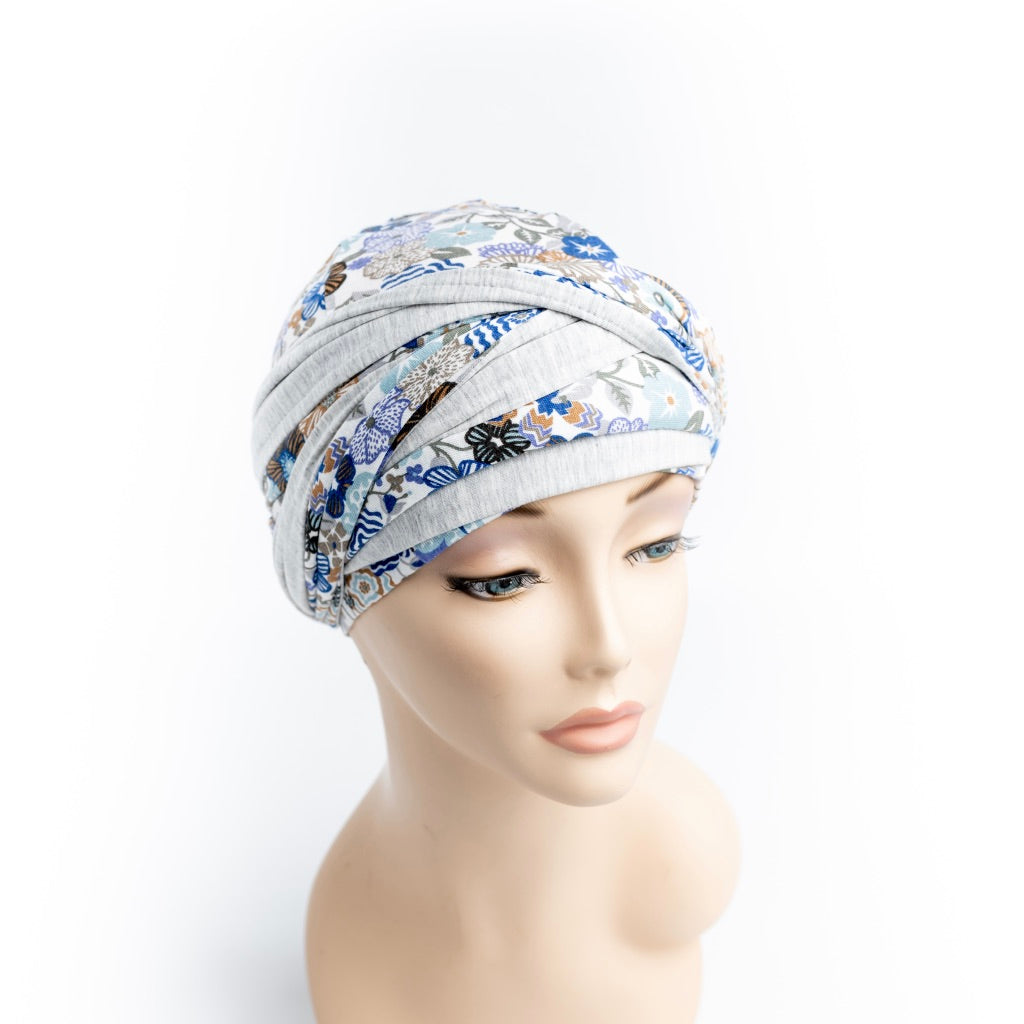 Bold Beanies are proud to introduce new double-sided Liberty Print Head Wraps to their head covers selection of products for women and teen girls undergoing chemotherapy treatments for cancer or more permanent hair loss such as Alopecia Areata.
Beautiful Liberty Prints on one side and a co-ordinating plain on the other. The Head Wraps are about one and a half metres long and can be wrapped on their own or over a Bold Beanies hat to add a stylish turban style interest to the face. The wraps can be tied in a multitude of ways depending on mood and the look of the day. The double side is not just economical but practical too, offering many more options to wear and style. 
Made in the UK using the highest quality fabric and finish. Due to the stretchy nature of the fabric they are very easy to tie or tuck in and so no lengthy lifting of arms is required... just wrap, tie or tuck in - easy! One less thing to worry about. 
We are adding new styles of this new product weekly, but please contact Emilienne (info@boldbeanies.co.uk) directly if you have anything specific in mind? Maybe you are having chemotherapy and attending a more formal event and need something to co-ordinate with an outfit.
A bespoke hair loss head wear hat, headscarf and head wrap service is available.
The fabric is naturally breathable and UV protective and designed with style and comfort in mind. 
Posted by Emilienne Rebel on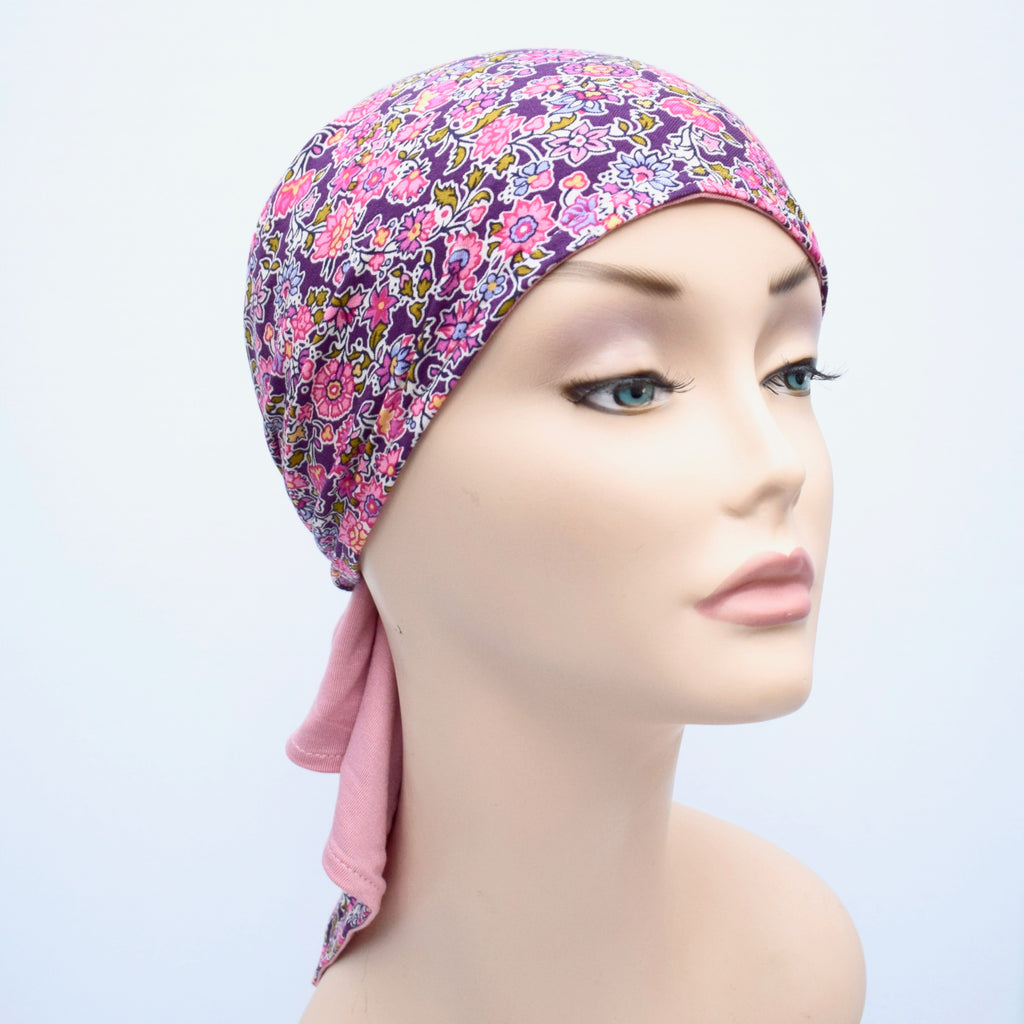 Are you looking for Pretty Cancer Headwear? Do you need to feel feminine during chemotherapy treatment? 
We make feminine, flattering floral and pretty Liberty Print Hats, Headscarves and Head Wraps for ladies suffering hair loss from chemotherapy treatments or non-medical Alopecia Areata. Designed with Style and also comfort in mind; our headwear is also easy to put on. No lengthy lifting of arms. 
Gorgeous beautiful prints from Liberty of London for women of all ages. Available in standard size which fits most women and also extra large size. 
The Liberty print (double sided with a co-ordinating plain side) head wraps and headscarves offer height and interest off the forehead and can be worn either side and folded over offering multiple ways to be tied depending on your mood or clothing. 
Or beautiful range of Bold Beanies cancer hats can be worn as daywear or as a breathable temperature controlling night cap. Plenty of cute prints to choose from and match your nightwear. 
The stretchy thin cotton fabric fits snuggly onto the head and doesn't slip around like other cancer headwear. Our high quality Liberty fabrics are naturally sweat-wicking, breathable and UV protective. 
Which one will you choose? Free UK Delivery on all orders over £40. Fast Worldwide Shipping.
Tags:

bowel cancer, cancer, chemo, chemochic, chemotherapy, cute, feminine, flattering, floral, Hair Loss, hairloss, hats, Head Wraps, headscarves, headwear, ladies, liberty, liberty print, pretty, women
Posted by Emilienne Rebel on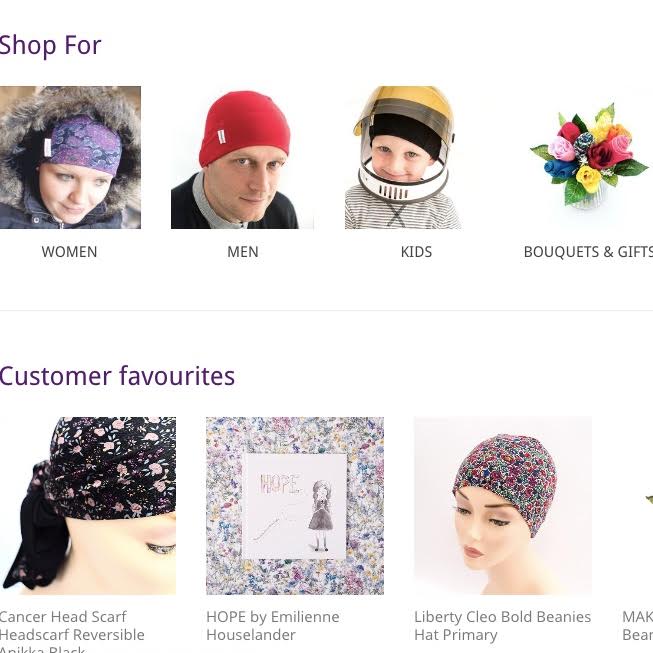 Exceptional quality, easy to put on and super comfortable, stylish Cancer headwear. European Award Winning Headwear!
At Bold Beanies we are committed to helping anyone going through chemotherapy, alopecia and other medical hair loss issues. Our beautiful handmade headscarves, head wraps (bandanas), beanies, night caps and helmet liners will make you feel instantly pretty and feminine. One less things to worry about.  
Choose from our beautiful selection of Liberty prints and plain fabrics that are all natural and breathable, including cotton, silk and cashmere. Skull caps and sleep caps for Men, women and kids. 
All of our chemo designs will keep you warm in winter and cool in summer. We have developed a range of chemotherapy styles (including PICC cover sleeves and cancer gifts for loved ones) which are very easy to put on. No lengthy lifting of arms or fiddly fabrics to tie. 
We've designed the Bold Beanies for style, ease and comfort in mind... the perfect one stop solution to anybody's hair loss. Constructed with minimal seams and no irritating labels for ultimate comfort. 
We've designed the headscarf to flatter every face. Double-sided for interest and value for money, lots of clients turn back the front part to reveal the underside. This style is perfect for anyone who wants to wear a pretty headscarf but doesn't want to have the hassle of learning to tie a square one and is snug and completely secure of the head.