Posted by Emilienne Rebel on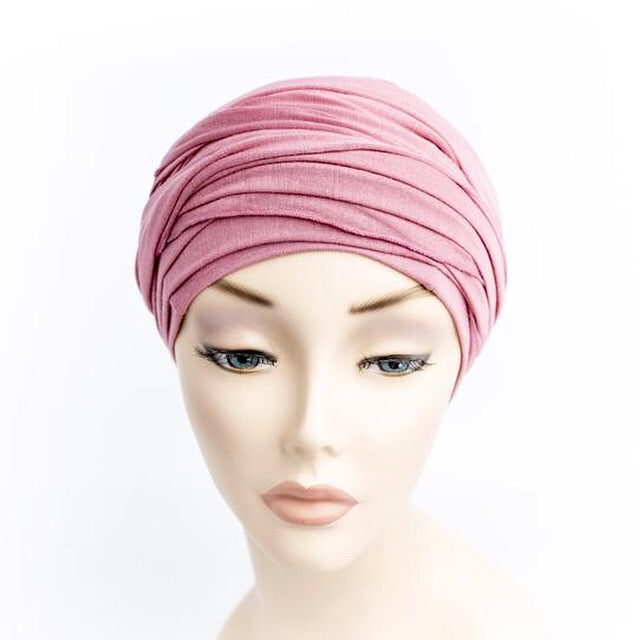 Approximately 700 people a day are diagnosed with some form of cancer in Britain. About half of those will lose their hair with chemotherapy treatments. Emilienne was one of them. She found the range of head covering options very outdated and fussy and geared at older women with cancer. As a younger woman with breast cancer, she needed to cover up for her small family and get on with daily life as best she could, but also wanted something more stylish and pretty. The idea for Bold Beanies was developed in her sick bed when her woollen hat was itchy...
Posted by Emilienne Rebel on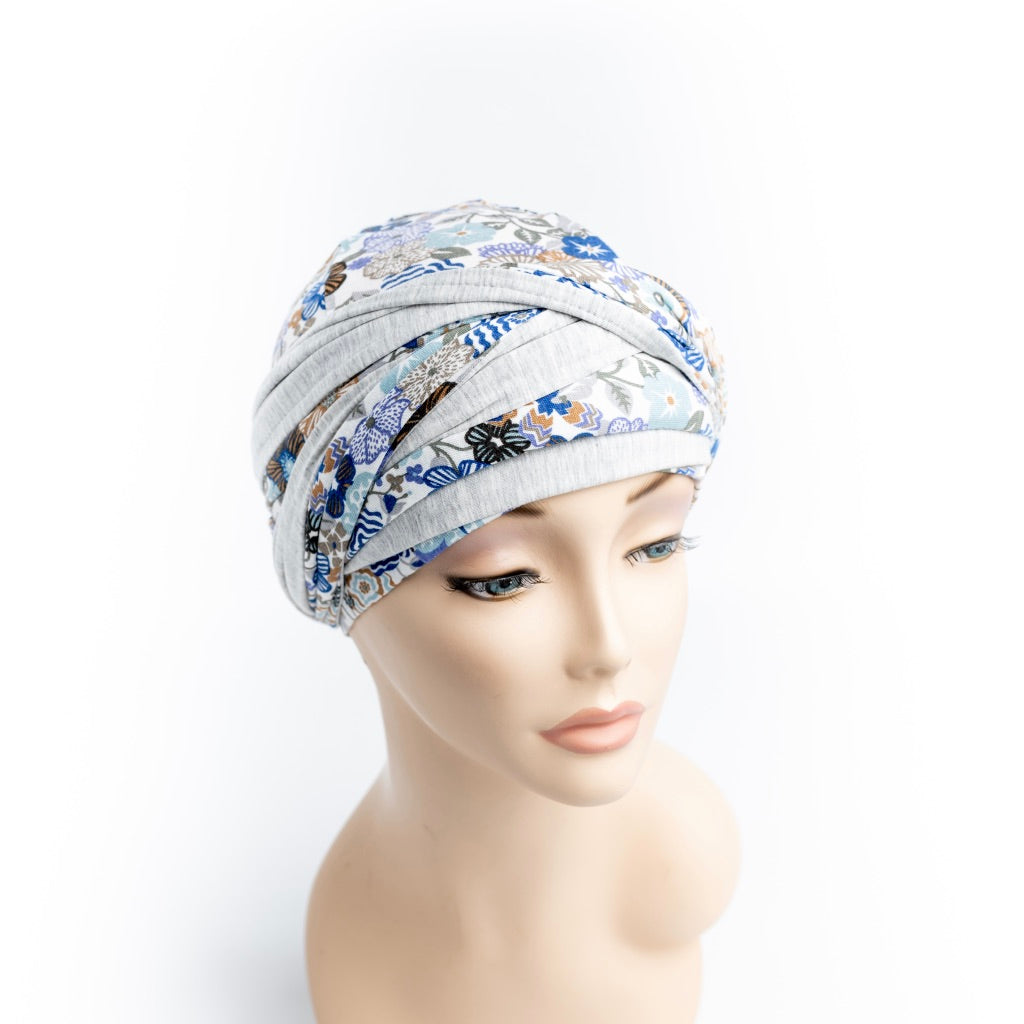 Bold Beanies are proud to introduce new double-sided Liberty Print Head Wraps to their head covers selection of products for women and teen girls undergoing chemotherapy treatments for cancer or more permanent hair loss such as Alopecia Areata.
Beautiful Liberty Prints on one side and a co-ordinating plain on the other. The Head Wraps are about one and a half metres long and can be wrapped on their own or over a Bold Beanies hat to add a stylish turban style interest to the face. The wraps can be tied in a multitude of ways depending on mood and the look of the day. The double side is not just economical but practical too, offering many more options to wear and style. 
Made in the UK using the highest quality fabric and finish. Due to the stretchy nature of the fabric they are very easy to tie or tuck in and so no lengthy lifting of arms is required... just wrap, tie or tuck in - easy! One less thing to worry about. 
We are adding new styles of this new product weekly, but please contact Emilienne (info@boldbeanies.co.uk) directly if you have anything specific in mind? Maybe you are having chemotherapy and attending a more formal event and need something to co-ordinate with an outfit.
A bespoke hair loss head wear hat, headscarf and head wrap service is available.
The fabric is naturally breathable and UV protective and designed with style and comfort in mind. 
Posted by Emilienne Rebel on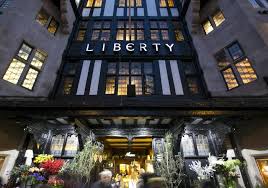 I'm so proud to offer my Bold Beanies headwear in such beautiful quality Liberty prints. Simple, easy to wear and immaculately constructed cancer beanies, headscarves, head wraps and PICC covers made using these wonderful and uplifting prints from 

Liberty of London so 

quintessential British & with quintessential quirkiness

.
As one of the best-known department stores in the UK, Liberty London offers a diverse range of products, but one of their staple products & absolute best sellers are their fabrics – specifically their cotton prints. Not surprising, then, is that the founder of Liberty London has his roots in fabric and Liberty

 has a great tradition and history

 

spanning a period of over 80 years.

In the 1920s, Liberty began to produce miniature floral, paisley & abstract prints that became known as 'Liberty Prints' and the rest, as far as I am concerned, is history.

Englishman Arthur Lasenby Liberty began his career as an apprentice for a draper. He then took on a job at Farmer & Roger's Great Shawl and Cloak Emporium – a position that set him on course of his life's work. After ten years of work there, learning about textiles & other arts, he decided to branch out and open his own business in 1875, named 'East India House' where he solely sold Oriental imports – namely rugs, decorative objects and…fabrics!

In 1875 a small shop opened in Regent Street London called Liberty & Co. This was the dream of an Englishman Arthur Liberty, a man of great vision and artistic skills who until his death in 1917 played a leading part in the growth and achievements of a wonderful department store.

Arthur Liberty spent many years travelling to Eastern parts of the world gaining inspiration for the development of his store and he would bring home beautiful rugs and fabrics from these countries. He involved William Morris and other famous artists of the 19th century in the designing of rugs and materials. Some of these early designs are still used today.
Tags:

alopecia, beanie, boldbeanies, Breast Cancer, cancer, chemo, chemotherapy, childrens, cotton, floral, hair loss, hairloss, hats, headscarf, headscarves, headwear, liberty, liberty print, mens, picc, skull caps, turban, womens
Posted by Emilienne Rebel on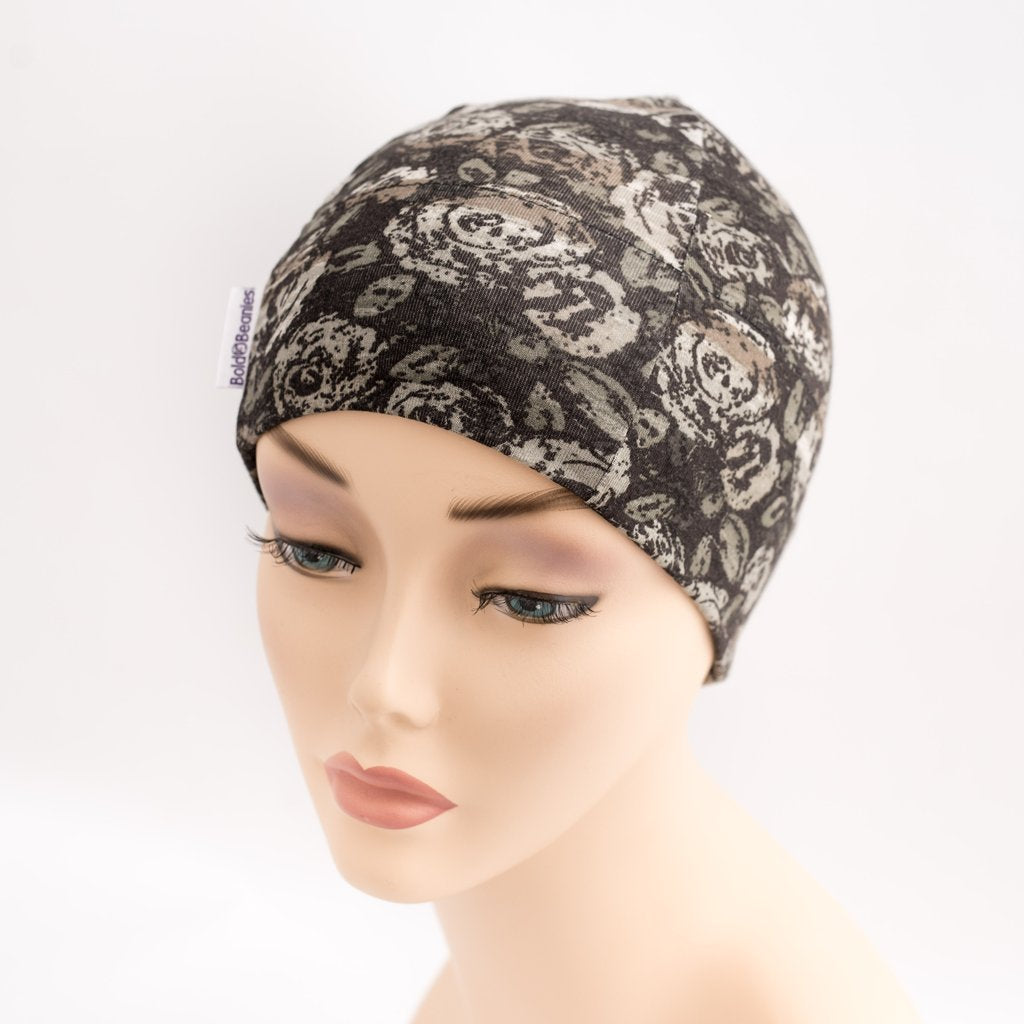 Bold Beanies were designed by Emilienne many years ago whilst undergoing chemotherapy treatment for Stage 4 Breast Cancer when she wanted something super soft and comfortable to stay covered up in front on the family, keep warm but also stylish and pretty for a younger person going through cancer. 
These award winning cancer hats are made to exceptional high standards using the best quality cotton based stretchy fabric from Liberty Art Fabrics which is famous all over the world for quality and the best designs. Minimal seams and not irritating labels make for a comfortable beanie. The stretchy fabric allows the cap to fit snuggly but not tightly onto a bald sensitive scalp and stay put whilst you get on with your day or get a good nights rest. Not too hot or cold, the breathable fabric wicks away sweat and keeps the head at an even temperature. 
Will you go for a plain hat or get one customised with a name or slogan of your choice? Or choose from the wide range of beautiful pattered Liberty prints? 
Designed to be worn day or night, on their own or layered up under another beanie or head scarf... show us how you wear yours. Matching scarves and PICC line covers available now. 
Posted by Emilienne Rebel on
Bold Beanies cotton chemotherapy hats are so soft and stretchy they fit snuggly, but not tightly onto a sensitive scalp for a good nights rest. They are made in the UK from luxury natural fabrics and the highest quality design construction. We ship worldwide.
I know from my own experience that finding something comfortable and breathable is hard and yet very important when suffering from hair loss, especially from cancer chemotherapy as you lose your hair suddenly and feel the cold or more permanent hair loss such as Alopecia. 
You can't wear a wig or scarf comfortably in bed and they slip about when you move. I ended up wearing woolly hats in bed, but these were itchy and often too hot... so I would take it off... and then find myself freezing cold, especially as I had my chemo during winter months and lived in a draughty house. But these soft hats are great for warmer weather too as they are temperature controlling and wick away sweat.
---