BB Blog — best hairloss headwear
Posted by Emilienne Rebel on
I was delighted to be approached by Alex Jones to chat about the creation of Bold Beanies and my experience of Breast Cancer on her BBC Radio Wales show on Sunday Morning. Talking hair loss from chemotherapy treatments and starting my small business making my innovative soft, comfy yet fashionable Bold Beanies from North Wales.
Explaining the need for stylish cancer headwear for younger women and what makes my award winning beanie cancer hats so popular for hair loss sufferers; my Bold Beanies Bouquets and roses to create a beautiful, traditional yet practical gifts for women suffering hair loss (from chemotherapy treatments or Alopecia); expanding the range to mens, teens and kids ranges also and the development of sustainable new products like head wraps, headscarves, face-masks, PICC sleeves all using quality Liberty and fun cotton fabrics and my book HOPE.
A positive story of survival 15 years after my grade 3 advanced diagnosis of Breast Cancer and how grateful I am to be able to watch my children grow, support lovely charities and make a difficult time for others just that bit more bearable.
Posted by Emilienne Rebel on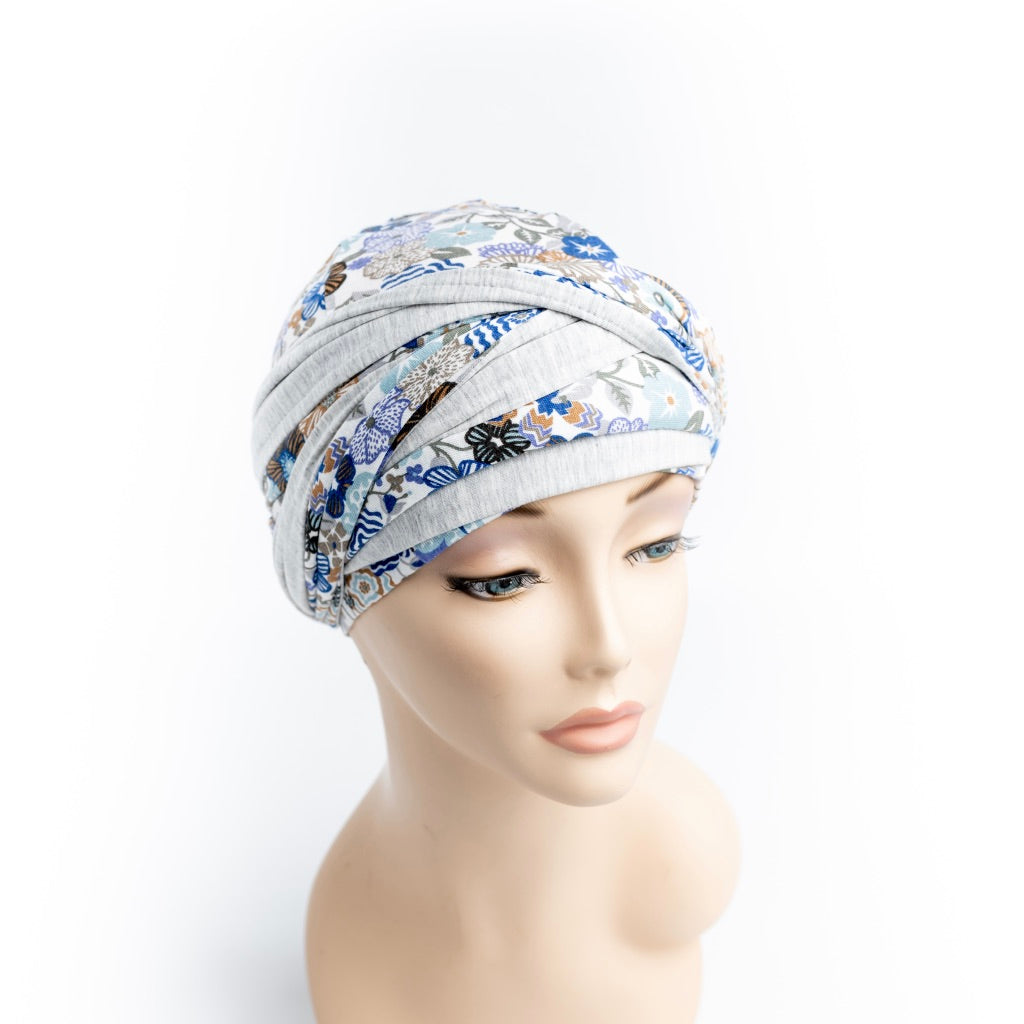 Bold Beanies are proud to introduce new double-sided Liberty Print Head Wraps to their head covers selection of products for women and teen girls undergoing chemotherapy treatments for cancer or more permanent hair loss such as Alopecia Areata.
Beautiful Liberty Prints on one side and a co-ordinating plain on the other. The Head Wraps are about one and a half metres long and can be wrapped on their own or over a Bold Beanies hat to add a stylish turban style interest to the face. The wraps can be tied in a multitude of ways depending on mood and the look of the day. The double side is not just economical but practical too, offering many more options to wear and style. 
Made in the UK using the highest quality fabric and finish. Due to the stretchy nature of the fabric they are very easy to tie or tuck in and so no lengthy lifting of arms is required... just wrap, tie or tuck in - easy! One less thing to worry about. 
We are adding new styles of this new product weekly, but please contact Emilienne (info@boldbeanies.co.uk) directly if you have anything specific in mind? Maybe you are having chemotherapy and attending a more formal event and need something to co-ordinate with an outfit.
A bespoke hair loss head wear hat, headscarf and head wrap service is available.
The fabric is naturally breathable and UV protective and designed with style and comfort in mind.