Posted by Emilienne Rebel on
Benefits of our Bold Beanies Chemo Hair Loss Headwear for Men
- Natural Stretchy Cotton Fabric
- Breathable & Temperature Controlling
- Designed for style & comfort
- No slipping on bald scalp
- Minimal Seams For Optimal Comfort
- Sweat Wicking & Naturally Antibacterial
- Wear as Soft Helmet & Other Headwear Liner
- No Irritating Label or Seams
- Easy to put on
- UV protective
- Liberty Prints & Customisable Plain Colours
Tags:

antibacterial, bald, baldness, bamboo, beanie, beanies, bowel cancer, cancer, chemo, chemotherapy, cotton, hair loss, headwear, helmet liner, male, men, mens, skull, skullie, sleep, sweat wicking, temperature control, testicular, treatment
Posted by Emilienne Rebel on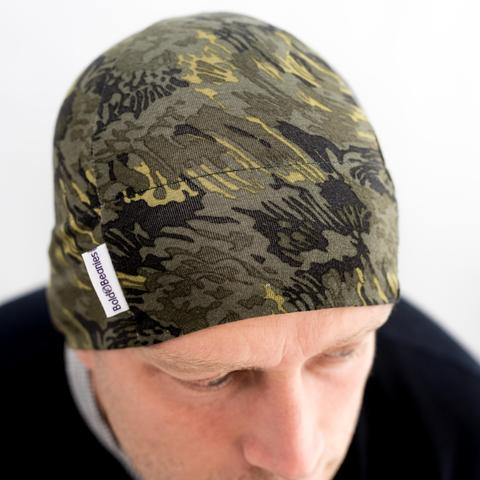 Bold Beanies has a wide range of comfortable men's skull hats specifically designed for style, design, comfort and ease. 
Constructed using the finest soft thin breathable stretchy cotton material to fit snugly onto a man's bald head. Wear on their own to cover up from chemo hair loss or as a sweat wicking, breathable and temperature controlling barrier layer under ally types of hats, helmets and hard hats. 
Designed to give a man confidence to get on with their day and comfortable protection during the night for a peaceful sleep. 
Choose from a vast range of plain colours. All our plain cancer hats can be customised. Personalise your chemo cap with a slogan, name or image of your choice. Just tell us what you want and we'll do the rest!
Liberty Cancer Hats for Men using the iconic brand quality fabrics for a superior skullie to suit males of all ages, including teens. PICC line covers also available. Can be sent as a Men's Cancer Gift. 
Tags:

Alopecia, bald, beanie, breathable, cancer, chemo, chemotherapy, cotton, Hair Loss, hats, headwear, helmet liner, men, mens cancer, skull, skull cap, skullie, sleep cap, sweat wicking, teen boy, uk
Posted by Emilienne Rebel on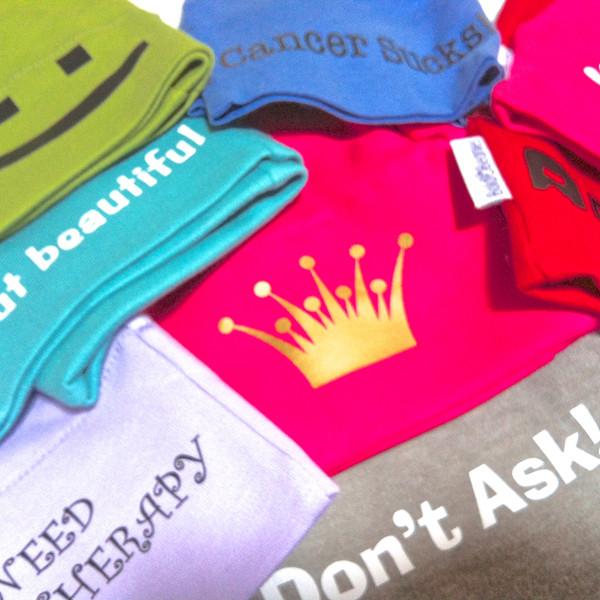 Are you looking for a specific chemo hat, scarf or headwear?  
Can't see the cancer headwear you're looking for?
Emilienne's main objective from her Bold Beanies business is to help people suffering hair loss (her own experience was medical alopecia from chemotherapy treatments aged 31)... to make a things just a bit more bearable... so if you would like to have something bespoke or having something unique in mind (size, print, customisation or colour for example), please drop her an email  - info@boldbeanies.co.uk - and she will always try her best to help. 
Bold Beanies thin stretchy cotton hats, head-wraps and scarves are available for Men, women and kids and come in a wide variety of plain colours and sizes. But sometimes you are searching for something truly unique and maybe we can help. 
Emilienne lost her hair whilst receiving chemotherapy treatment for grade 3 advanced Breast Cancer and couldn't find any simple, comfortable and un-fussy chemo headwear to make her feel confident to get on with her day and breathable and snug so she could get a good nights sleep.
Posted by Emilienne Rebel on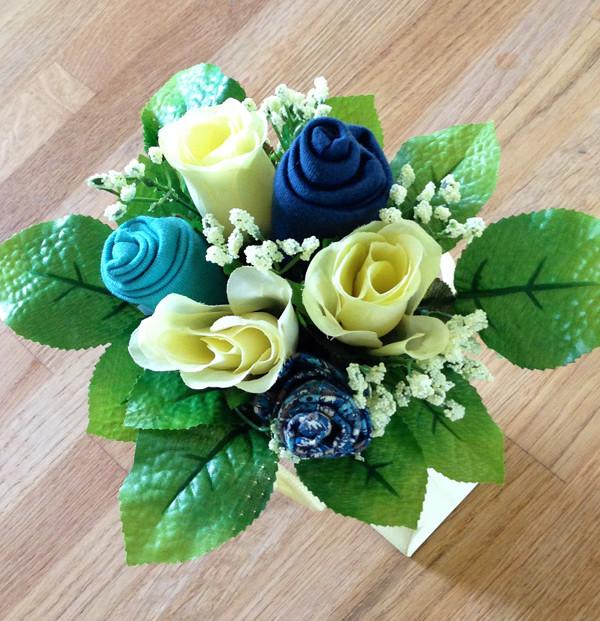 Product Spotlight : Blue Skies Bold Beanies Gift Posy Bouquet. The Ultimate Luxury Comfy Gift for Ladies with Cancer Hair Loss from Chemotherapy Treatments. 
Three quality cotton soft beanies rolled to look like roses and resented with silk flowers to make a gift posy bouquet. A traditional gift (flowers by post) but also practical too. Great alternative to real flowers when you are ill (and you don't need to find yet another vase!). The Blue Skies Bouquet Bold Beanies Bouquet Posy includes blue toned hats... One Liberty Art Fabrics blue printed hat and two co-ordinating plains. 
This ready made gift takes difficult task of choosing which styles to choose from you and makes it quicker and easier... alternatively you can choose the hats you want in a bouquet by adding three or more hats to your basket and selecting the 'Make into Bouquet' option also. 
Silky soft stretchy cotton cancer hats made to fit snuggly onto a sore scalp with an emphasis on comfort and ease. Easy to put on and so soft and comfortable to forget about the hair loss and get on with daily activities or simply keep the head at an even temperature to get a good nights sleep. 
All bouquets (or single beanies) can be sent with a handwritten gift note directly to the recipient. Please add note at checkout.
The very first bouquet ever sent was to a woman suffering with Alopecia Areata, so suitable for all types of hair thinning, medical or otherwise. These stretchy breathable hats are also suitable to wear over hair as a sweat wicking barrier under all types of helmets and hard hats or hijabs. 
Posted by Emilienne Rebel on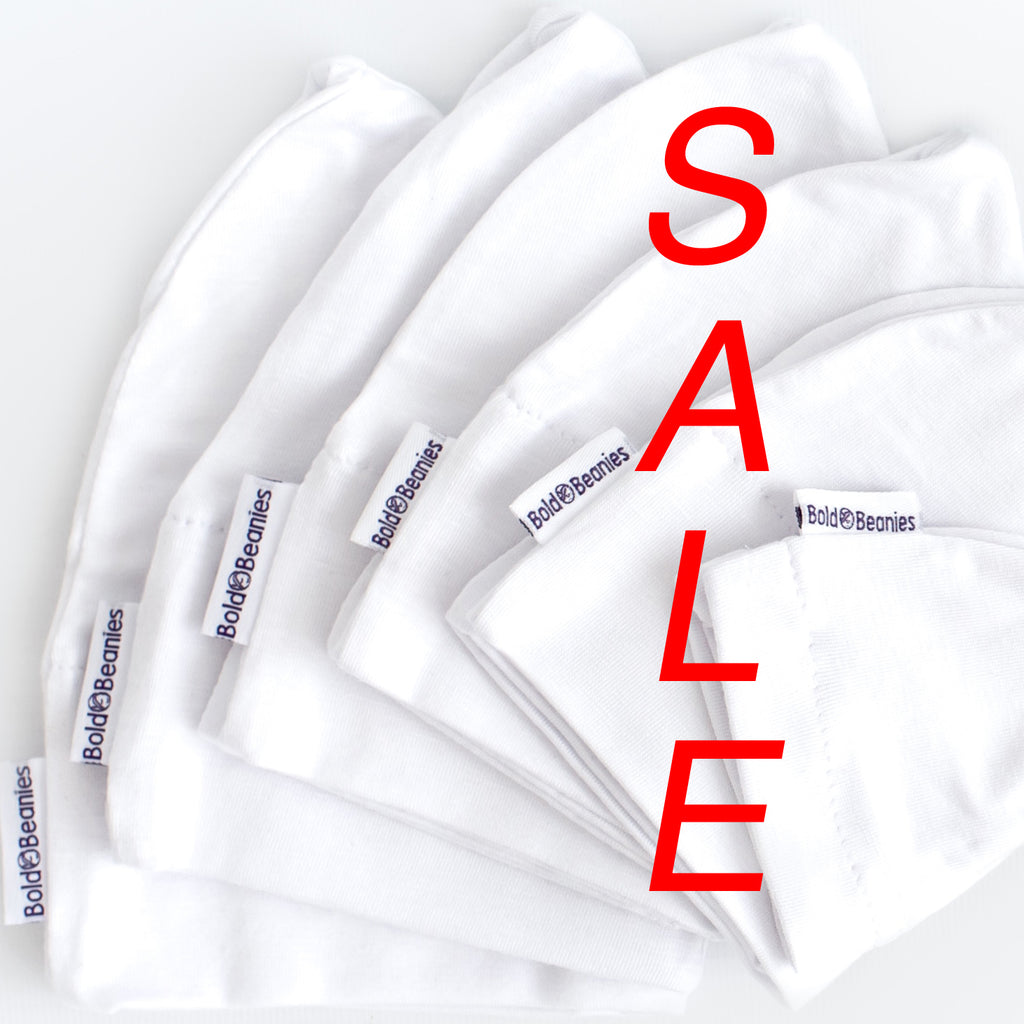 Bold Beanies Summer Sale. Cancer Hats & Chemo Headwear for Hair Loss at Reduced Prices.
Many plain and Liberty print chemotherapy beanies have been discounted and prices reduced. Bold Beanies are designed by Emilienne, a breast cancer survivor, with comfort in mind... using natural cotton breathable stretchy material to fit snugly, but not tightly, onto a sensitive scalp (from cancer treatments, alopecia hair thinning or brain head surgery for example). Our stylish silky soft headwear includes scarves and now Picc cover sleeves for chemotherapy patients and available for Women, Men and kids. 
You can also get a storewide 5 % discount by entering the code ' Summer5' at the checkout. 
---