Posted by Emilienne Rebel on
Benefits of our Bold Beanies Chemo Hair Loss Headwear for Men
- Natural Stretchy Cotton Fabric
- Breathable & Temperature Controlling
- Designed for style & comfort
- No slipping on bald scalp
- Minimal Seams For Optimal Comfort
- Sweat Wicking & Naturally Antibacterial
- Wear as Soft Helmet & Other Headwear Liner
- No Irritating Label or Seams
- Easy to put on
- UV protective
- Liberty Prints & Customisable Plain Colours
Tags:

antibacterial, bald, baldness, bamboo, beanie, beanies, bowel cancer, cancer, chemo, chemotherapy, cotton, hair loss, headwear, helmet liner, male, men, mens, skull, skullie, sleep, sweat wicking, temperature control, testicular, treatment
Posted by Emilienne Rebel on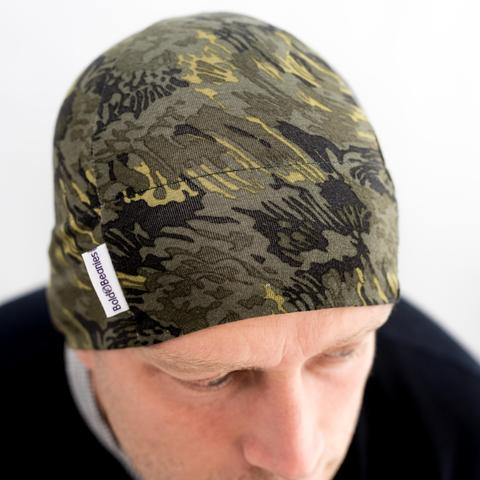 Bold Beanies has a wide range of comfortable men's skull hats specifically designed for style, design, comfort and ease. 
Constructed using the finest soft thin breathable stretchy cotton material to fit snugly onto a man's bald head. Wear on their own to cover up from chemo hair loss or as a sweat wicking, breathable and temperature controlling barrier layer under ally types of hats, helmets and hard hats. 
Designed to give a man confidence to get on with their day and comfortable protection during the night for a peaceful sleep. 
Choose from a vast range of plain colours. All our plain cancer hats can be customised. Personalise your chemo cap with a slogan, name or image of your choice. Just tell us what you want and we'll do the rest!
Liberty Cancer Hats for Men using the iconic brand quality fabrics for a superior skullie to suit males of all ages, including teens. PICC line covers also available. Can be sent as a Men's Cancer Gift. 
Tags:

Alopecia, bald, beanie, breathable, cancer, chemo, chemotherapy, cotton, Hair Loss, hats, headwear, helmet liner, men, mens cancer, skull, skull cap, skullie, sleep cap, sweat wicking, teen boy, uk
Posted by Emilienne Rebel on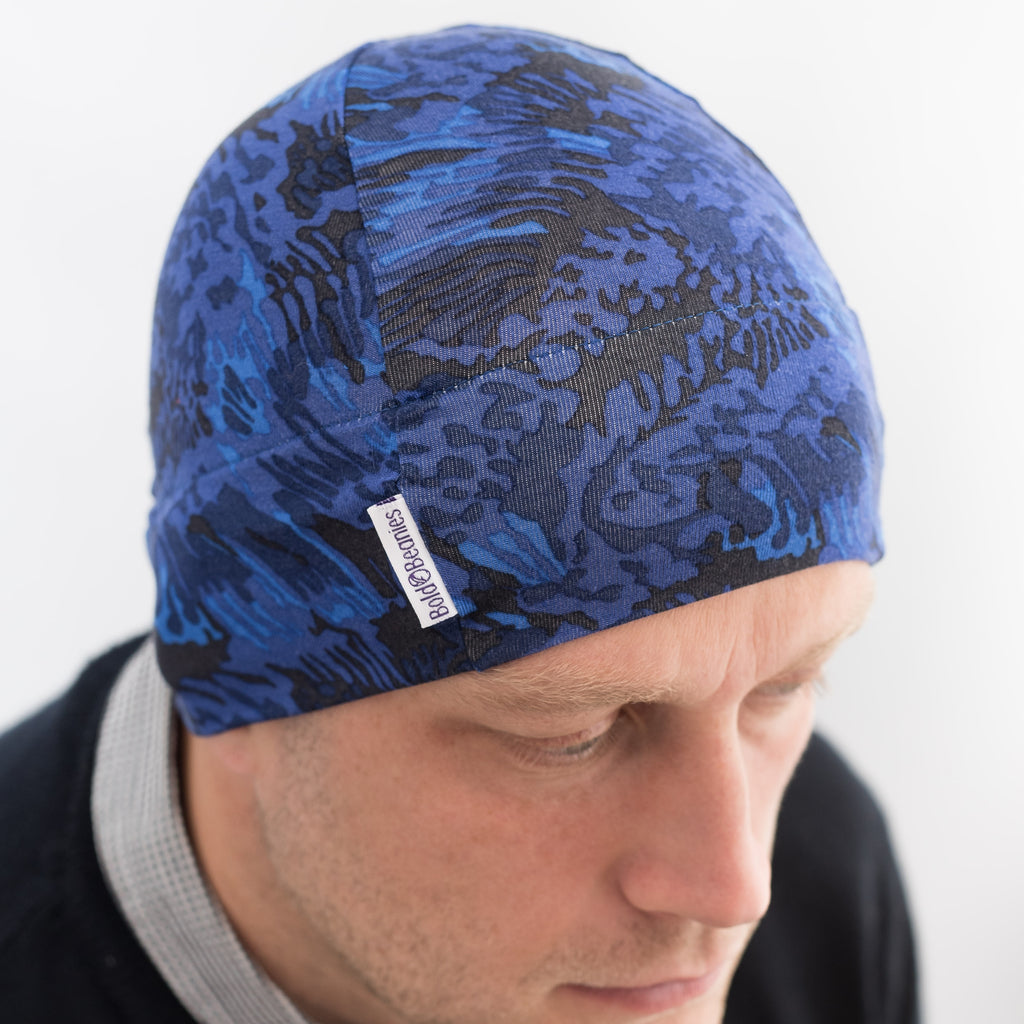 Men's Cotton Breathable Cancer Hats 
Designed to be silky-soft, snug and comfortable, these breathable cotton stretchy skull caps are the perfect solution to an man looking for temperature controlling headwear, especially over the winter months. 
The ideal skullie for any man suffering the cold or just wanting to cover up from male pattern baldness, general hair thinning, keeping ears warm for outdoor sports to more serious hair loss conditions such as Alopecia or Cancer Chemotherapy treatments.
Bold Beanies has a great selection of plains and Liberty prints to keep men's heads warm. Plain hats can also be customised.
Suitable for wearing day and night, layering under other hats or helmets to keep the scalp sweat free and at an even temperature.