Posted by Emilienne Rebel on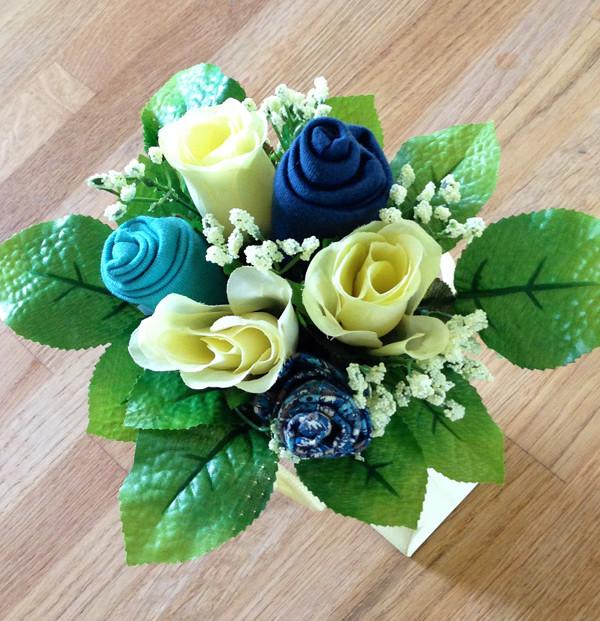 Product Spotlight : Blue Skies Bold Beanies Gift Posy Bouquet. The Ultimate Luxury Comfy Gift for Ladies with Cancer Hair Loss from Chemotherapy Treatments. 
Three quality cotton soft beanies rolled to look like roses and resented with silk flowers to make a gift posy bouquet. A traditional gift (flowers by post) but also practical too. Great alternative to real flowers when you are ill (and you don't need to find yet another vase!). The Blue Skies Bouquet Bold Beanies Bouquet Posy includes blue toned hats... One Liberty Art Fabrics blue printed hat and two co-ordinating plains. 
This ready made gift takes difficult task of choosing which styles to choose from you and makes it quicker and easier... alternatively you can choose the hats you want in a bouquet by adding three or more hats to your basket and selecting the 'Make into Bouquet' option also. 
Silky soft stretchy cotton cancer hats made to fit snuggly onto a sore scalp with an emphasis on comfort and ease. Easy to put on and so soft and comfortable to forget about the hair loss and get on with daily activities or simply keep the head at an even temperature to get a good nights sleep. 
All bouquets (or single beanies) can be sent with a handwritten gift note directly to the recipient. Please add note at checkout.
The very first bouquet ever sent was to a woman suffering with Alopecia Areata, so suitable for all types of hair thinning, medical or otherwise. These stretchy breathable hats are also suitable to wear over hair as a sweat wicking barrier under all types of helmets and hard hats or hijabs.